Aileen Call, AMFT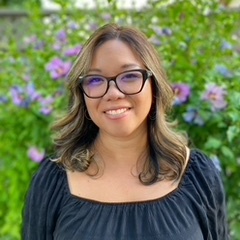 Aileen is an associate marriage and family therapist at IMT working with individuals, couples and families. Her goal is to create a non-judgmental, supportive, nurturing, and safe environment where clients can explore their strengths and obstacles and challenge old stories. Aileen's work is attuned to each individual, couple or family's needs, personality and circumstances. She will meet you where you are and let you be you. In the process, her goal is to join the client and maybe have some fun and laugh a little along the way. Her style is to slow it all down, take it at the client's pace, and work together as a team.
Aileen works with clients who are struggling with depression, anxiety, isolation, low self-esteem, relationships, co-parenting, woman's issues, life transitions, and trauma. Her approach in is integrative and unique to each client, their identities, culture, and experiences. Some of the approaches Aileen uses but not limited to include client centered, mindfulness, attachment (EFT), trauma -informed, ACT and narrative therapy. Most importantly, her approach is collaborative.
Aileen graduated from Palo Alto University with an MA in Counseling with an emphasis in marriage and family therapy. She is also a registered yoga alliance yoga instructor. Aileen has been teaching since 2008. She teaches vinyasa and prenatal yoga.
Aileen G. Call, M.A
AMFT
Supervised by Galina Litvin, LMFT #111344
Pronouns: (she/her)
(925)733 – 9774